As the first danish travel company, Above Borders arranges an unique marathon tour to North Korea, while there is Pyongyang Marathon.
The programme is in the spring and you will have the opportunity to participate in an unique running experience in the worlds most isolated country. Besides the run, we guarantee that you will obtain deeper insight and knowledge about the North Korean culture, interact with local Koreans and see the beautiful nature.
We will also see one of the most intense military areas in the world, where both south and North Koreans soldiers stand guard. Shortly told, we will ensure that you will receive a lot of thoughtful and interest experiences, which you will never forget. (And you do not have to run a full marathon. You can choose between 5 km, 10 km, half marathon or a full marathon)
Afrejse 4. april
Hjemrejse 11. april
Pris
13.500 kr.
Inkl. kost og logi
Vælg mellem 5 km, 10 km, halv marathon eller marathon
Experience the worlds most isolated country

Experience tour leader and danish guides

A tour you will never forget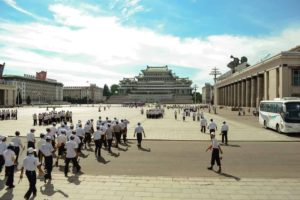 We meet at Great Wall Hotel in Dandong China. After check in, we will arrange dinner. Dinner will be at a North Korean driven restaurant and is one of the few places in the world where North Koreans work outside the countrys border.
During the dinner, our tour leader will share his previous experiences so that you will be fully prepared for your travel.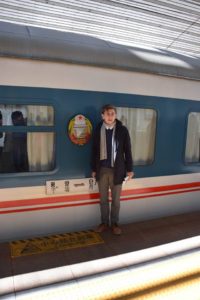 The day where we are going to North Korea.
On the train ride from Dandong to Pyongyang, there will be an unique possibility to interact with the traveling korean. If you are humble and curious, you can get close to the North Koreans every day life when asking them about their personal life.
After arrival, we will visit Pyongyangs Arch of Triumph. The days ends with dinner at a local restaurant and a walk at Chgnjon Street to Kim Il Sung Square – The square where all parades and event are being held.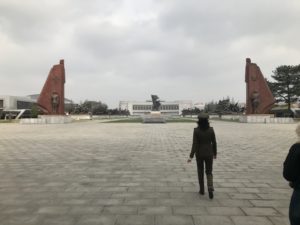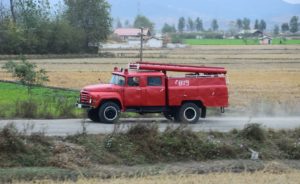 This days starts with a tour at Victorious Fatherland Liberation War Museum.
This museum tells about the Korean War seen from a North Korean perspective and we will even enter the american war ship USS Pueblo.
After lunch we will drive there tram through Pyongyang to Bongsu Church. In the church we will meet a minister who tells about the christian religion in North Korea.
In the afternoon we will shop at the local supermarket where it also will be possible to use the North Korean currency.
The days ends with a walk at future scientist street and an easy evening at the hotel where we can bowl, take swim in the pool or enjoy the view from the revolving restaurant at 47th floor of Yanggakdo Hotel.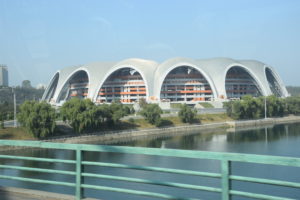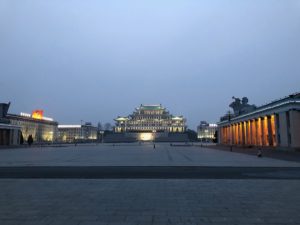 Day of the run! We will eat breakfast together at the Hotel, wherefore the bus drives to Kim Il Sung Stadium.
At the stadium, you will be handed out your running shirt and start preparing for the run. No matter if you run 5 km, 10 km, half or full marathon is start and end at Kim Il Sung Stadium. As end of your route you will run a round of honor at the stadium where up to 50.000 Koreans will be cheering at you on your final meters. After you finished your run, you will receive a diploma and a medal. We will together watch a closing ceremoni held at the stadium.
Rest of the day will be steady and easy with a dinner at the local korean restaurant and different activities at the hotel before an busy day tomorrow.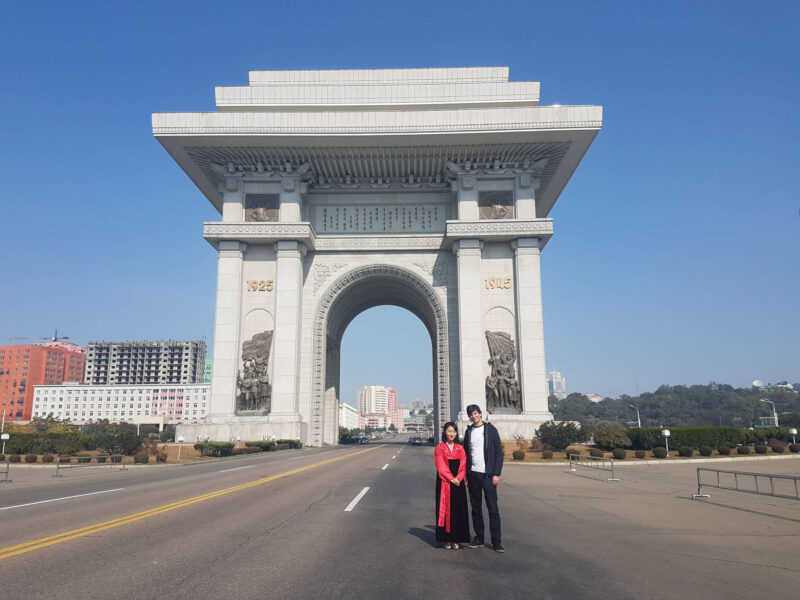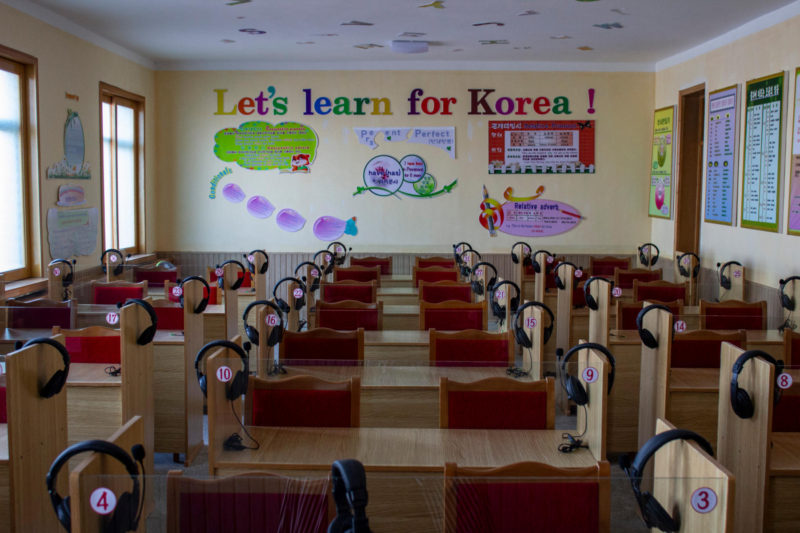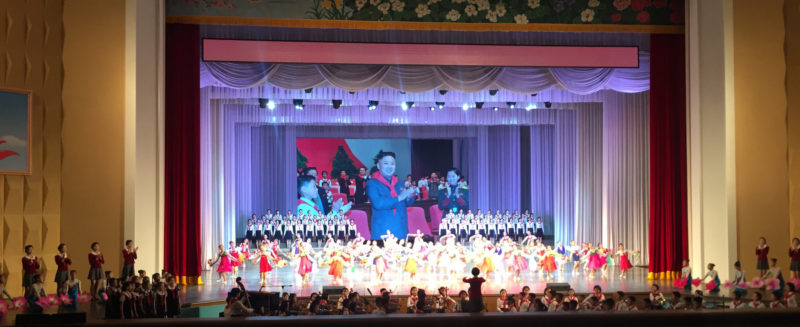 Dagen hvor vi skal have så meget interaktion med den nordkoreanske befolkning som muligt!
Vi starter dagen med at besøge monumentet forbi Arch of Triumph og Pyongyang fotball stadium, for herefter at køre hen til et af de mest hellige steder i Nordkorea, Mansudae Grand Monument.
Efter monumentet, skal vi til Korean Peoples Study House.
Vi vil blive vist rundt på dette folkebibliotek, og få muligheden for at snakke med en klasse som bliver undervist i engelsk.
Efter frokost, kører vi til en folkeskole, hvor vi kan spørge eleverne om deres hverdag og hvordan de bliver undervist.
Dagen i Pyongyang afsluttes med rundvisning på Children Palace og forestilling udført af de dygtige nordkoreanske børn.
Vi kører derefter til Kaesong city, grænsebyen til Sydkorea, hvor vi skal overnatte.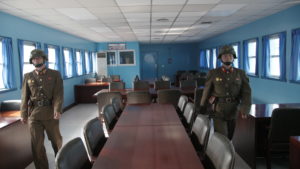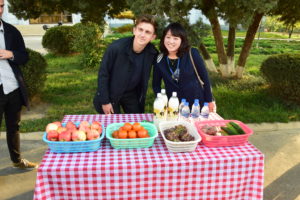 Dagen starter med en morgengåtur i Kaesong City, for at opleve den en anden by helt tæt på.
Efter gåturen skal vi til et af de mest intense militære områder i verden: DMZ.
Området er grænsen mellem Nord- og Sydkorea, og er konstant overvåget af soldater fra begge sider.
Vi kommer helt tæt på grænsen, og hvis du er heldig, kan du endda stå med et ben på hver side. I Kaesong findes også et museum der fortæller om den koreanske kultur, og historien om Korea før krigen. Når vi besøger dette museum, vil du opleve den stærke forbindelse som Nord- og Sydkorea har haft, og bedre forstå hvorfor det historisk set er ét land.
Herefter kører vi tilbage til Pyongyang. På vejen tilbage vil vores guide fortælle om Nordkoreas genforenings politik,
og hvordan landet skal genforenes, i Nordkoreas øjne.
I Pyongyang skal vi se Juche Tower, og hvis man har lyst kan man komme op i toppen.
Her kan du få en fuld udsigt over hele Pyongyang.
Efter aftensmaden og en lang dag, tager vi til hotellet.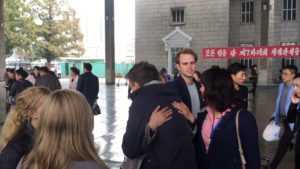 Last day in North Korea.
After goodbye to our guides, a train ride back to Dandong is waiting. Last chance to interact with the Koreans, but you are also more than welcome to take a nap on our way home.
Back in Dandong we will check in at our hotel and go to our last dinner.
The itinerary is officially over. Last night in Dandong is also included and the day after you can either travel home our tour around in asia if that is what you want.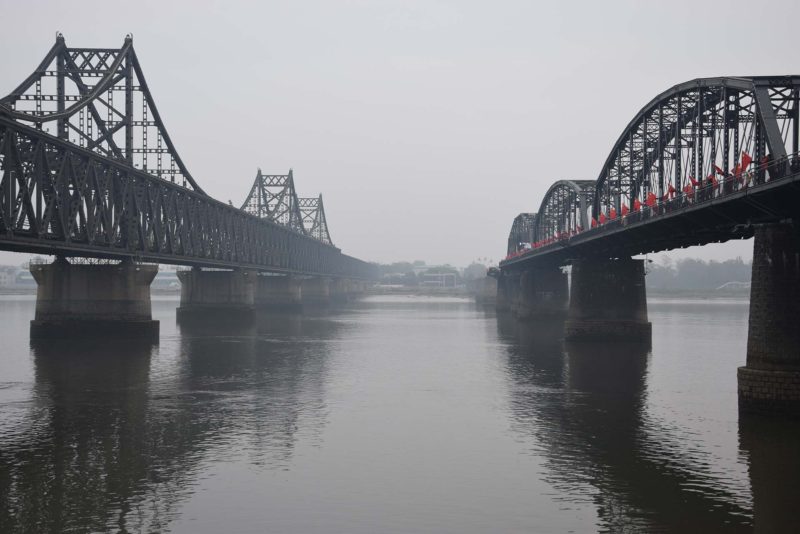 Sidste dag på rejsen, og der er ikke de vilde planer, udover at sige farvel til hinanden. Hvis du stadig har mod på oplevelser kan du i Dandong besøge den kinesiske mur eller broken bridge som går halvvejs over floden til Nordkorea. Hvis du forventer at du på nuværende tidspunkt gerne vil rejse rundt i Kina kan du også tilmelde dig vores sommerrejse til Kina.
Due to the general tourism in North Korea, the itinerary is planned with subject to change. There will before and during our tour there will be changes, but we will do anything we can to update you regularly and in case of cancelations we will find alternatives to the itinerary.
It is only the 6th time that Pyongyang Marathon is open to public and it is possbile to run 5 km, 10 km, half or full marathon.
På hver distance er der følgende tidsgrænser:
5 og 10 km < 2 timer
Halvmaraton < 2,5 time
Maraton < 4,5 timer
Sørg for at vælge en rute som passer dig, så du er sikker på at gennemføre. Løbet skal helst blive en uforglemmelig oplevelse, men ikke af de forkerte årsager.
Du får udleveret en løbs t-shirt ved start, men det er tilladt at tage din egen på. Din løbstrøje må dog ikke indeholde flag, politiske udsagn, fremtrædende logoer eller uanstændige ord.
Der vil undervejs på ruten blive udleveret vand ved hver 5. km. Hvis du har brug for ekstra sportsdrinks, energibar, energigel eller lignende, så medbring dette hjemmefra, da det ikke er muligt at købe det i Nordkorea. Det er tilladt at medbringe, så meget du vil.
Hvis du kommer til skade undervejs, er det vigtigt, du stopper. Forsøg ikke at presse dig selv yderligere, da lægehjælpen ikke nødvendigvis er, som du er vant til. Gå herefter ud til siden, og du vil blive samlet op af en af de officielle køretøjer, som hjælper dig tilbage og giver dig den bedst mulige hjælp.
Såfremt du gennemfører inden for tidsgrænserne, vil du få overrakt et diplom og en medalje som bevis på, du har gennemført (uanset hvilken rute du vælger). Dette vil blive overrakt til dig, inden vi forlader Nordkorea.
Other important information
Above Borders is a member of the Danish Travel Guarantee Fond – Rejsegarantifonden (Member no: 2943). We cooperate with Eastern Vision, who has several years of experience with travel to North Korea. Above Borders make sure to communicate and guide as well as providing the tour leader.
It is your own responsibility to ensure your Chinese Visa. Above Borders will however gladly help with your application, so when time comes, do not hesitate to ask.
Transport from China to North Korea and back

Al accommodation in China (2 nights) and in North Korea (5 nights)

All meals in China and North Korea

Two North Koreans guides and one North Korean driver

Experienced tour leader – Jonas

Al entrance to museum etc.
Not included in the price
Transport from Denmark (or anywhere else) to China

Extra meals, snacks and souvenirs

Ekstra aktiviteter, f.eks. toppen af Juche Tower

Double Entry Visa to China
Frequently asked questions
What do previous participants say?
Jonas Bang Andersen
2018-08-30T13:54:55+00:00
For os betyder det meget, at alle medrejsende får en fantastisk oplevelse – derfor lader vi dem også tale for sig selv, når nogen spørger, hvad de synes om vores rejser. Du kan læse, hvad de synes her: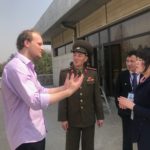 "Above Borders has really arranged a brilliant tour. Everything was carefully planned and the timeline was held – there was even added extra experiences at the itinerary during the days we where there. It was really cool experiencing a country which is that closed to the outside world and you really gets to create your own opinion to all the stories you hear about the country. It was in any case an real eye opener for me. A tour to North Korea can in any case be recommend!"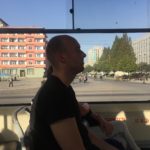 "Incredible amazing experience which showed North Korea from a whole new angle which at the same time starts makes your mind wonder about a world far away from my own life in Denmark. The tour was really well planned with a lot of exciting experiences, good food and interaction with the local north koreans. An experience for life!"
"An amazing tour I would gladly recommend! The tour was really well organized and every detail was carefully planned, so that the particpants could enjoy the itinerary to the fullest. It was an experience for life and I hope I can revisit the country another time."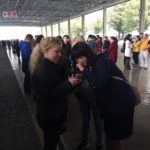 "Amazing tour, and I would love to go again. Great hotel with everything the heart desires, great food, a lot of new amazing experiences and new acquaintances. We had the sweetest guides which made sure that nothing missed and made sure we were in good and safe hands!"
"The platinum-star has been secured through a five star review. A very beautiful tour, with extra ordinary experiences and a very humorous and engaged tour leader Jonas. I would fore sure recommend a tour – if you plan to stay more days in China than planned, the skip Dandong and settle with only the one day/night in Dandong as the itinerary suggests."